Status: 05.06.2021 1:25 p.m.
Closed fitness studios, no training in the sports club and a lot of home office: During the corona pandemic, many people put on weight.
At the AOK, the number of those interested in many online offers has more than doubled in the past eight weeks, said an AOK spokesman. Many people wanted advice, especially when it came to nutrition. The Barmer Ersatzkasse has had around 150 participants in online courses for fitness and nutrition every month since January. That is twice as much as before the pandemic, said the health insurance company.
Pediatrician observes weight gain in children too
Ralf van Heek, pediatrician from Altenholz (Rendsburg-Eckernförde district), told NDR Schleswig-Holstein that he observed that over the years more and more children and adolescents had to struggle with weight problems. He sees reasons in the changed everyday life of people: Children are longer in school and spend a lot of time at home on the screen instead of moving; Parents would drive their children a lot instead of taking them to one place by bike or on foot. "The three widespread diseases of obesity, pain and depression can be prevented and treated through exercise," emphasized Van Heek. In addition, children who are physically fit are also mentally fitter. "You can learn better," said the doctor. He advocated teaching sports for one hour a day in schools.
Forsa survey: 40 percent report weight gain during Corona
Reliable figures on whether and, if so, how many people gained weight during the corona pandemic in Schleswig-Holstein are not yet available. The polling institute Forsa recently surveyed almost a thousand Germans with the Technical University of Munich. The result: around half of the respondents said that they exercise less than before the pandemic. About 40 percent said they gained weight over time. The Schleswig-Holstein General Practitioner Association also observed that many people had gained weight in the past year.
video embedded ">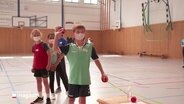 VIDEO: According to the study, children's mobility continues to decrease (3 min)

.