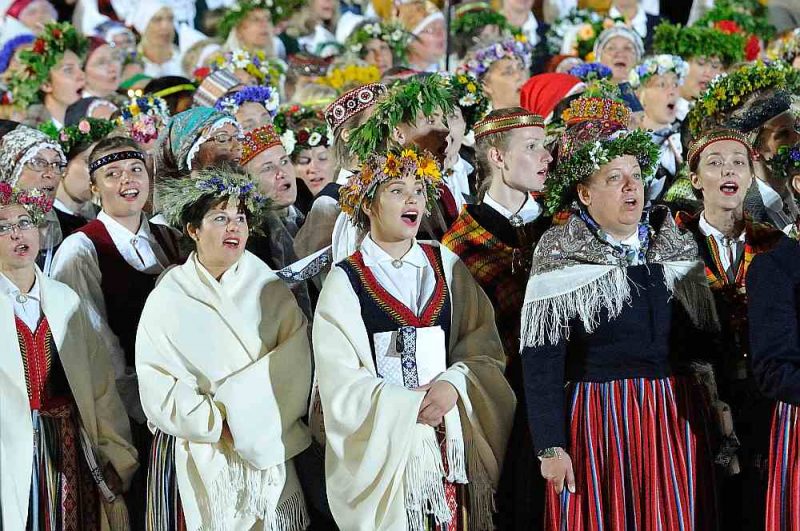 In the XXVII General Latvian Song and XVII Dance Festival Choir Grand Concert Art Conceptual Art Competition, the concepts "Clean. Lana Kazlauskiene, a representative of the Latvian National Cultural Center (LNKC), informed LETA.
She said that the best idea of ​​the artistic concept and creative team had been selected in two rounds of the competition, which will ensure the preparation and implementation of the 150th anniversary event of the Song Festival tradition – the choir's grand concert.
The task of the competition was set by the organizer of the General Latvian Song and Dance Festival, LNKC, to create the artistic concept of the Choir Grand Concert, including artistic, directional and scenographic intentions, as well as at least half of the concert repertoire under the theme "Song Festival 150. Tradition".
The organizer of the festival received five offers of artistic concepts. In the first round of the competition, a competition commission established by LNKC evaluated the applications in accordance with the evaluation criteria of the regulations, maintaining the anonymity of the applicants. The candidates invited to the second round of the competition met in a negotiated procedure. During it, the performance of the applicants was evaluated by presenting the content of the application.
The composition of the creative group consists of its artistic directors Ārijs Šķepasts and Kaspars Ādamsons, director Juris Jonelis, set designer Ivars Mailītis and playwright Matīss Gricmanis.
Kazlauskiene pointed out that in the artistic concept created by the winners, entitled "Pīrums. Song Path "highlights the notion of virtue, which means the courage to seek new horizons.
The application states: "We intend that the Song Hill will become a field. It has no paths, only symmetrical squares of furrows. People will gather in the field to sow songs. " It is planned that the cornerstone of the Choir's big concert will be folk song arrangements and original compositions in which the composers are inspired by folk songs.
The creative team will continue their work, and at this year's autumn seminar, Latvian and diaspora amateur choir conductors will be introduced to the artistic concept and repertoire. Thus, the large choir of the Song and Dance Festival will start preparations for the Song and Dance Festival of 2023, the representative of the LNKC indicated.