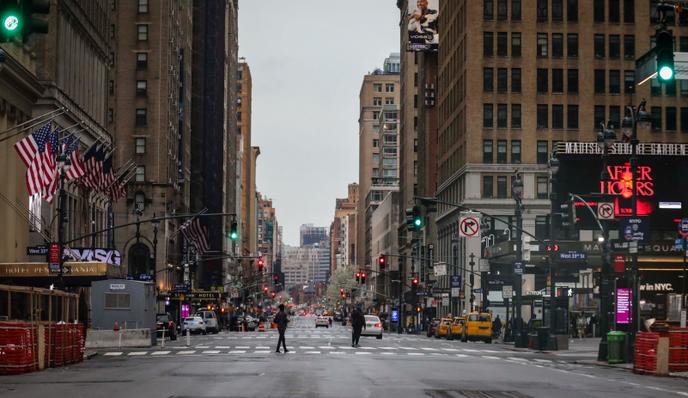 Without a proven vaccine or treatment, more than three billion people worldwide remain confined to their homes on Sunday, March 29, to prevent the spread of Covid-19.
The coronavirus pandemic has already claimed more than 30,000 lives worldwide. Europe is the continent hardest hit and accounts for two thirds of the world's deaths, with Italy and Spain being the two most bereaved countries in the world.
The United States is the country with the highest number of confirmed cases (121,117) and the number of deaths reached 2,010 on Saturday, according to Johns Hopkins University, the count of which refers. The death toll has doubled since Wednesday, when it crossed the 1,000 mark.
More than 50,000 cases, and 728 deaths in New York State
US President Donald Trump announced on Saturday that he is finally giving up quarantining the states of New York, New Jersey and Connecticut, after raising the possibility earlier today. New York State is by far the most affected by the coronavirus in the United States, with 52,318 cases and 728 deaths. Asked about the possibility of a closure of the state borders decided by Washington, the governor Cuomo had warned, on CNN, that it would be a decision "Illegal", similar to "A declaration of war against states" of the Union.
Trump said he had asked the National Health Authority's Center for Disease Control (CDC) to issue a notice. " closed " dissuading movements to enter or leave these states, without therefore closing their borders.
"The CDC urges residents of New York, New Jersey and Connecticut to avoid non-essential travel [dans le pays] for the next 14 days with immediate effect ", the CDC said in a short statement released later on Saturday.
In addition, United States also deplored, Saturday, the death of a baby under one year old, in the state of Illinois, one of the youngest victims of this disease which generally spares children.
More than 800 deaths in one day in Italy and Spain

Covid-19 kills in main X households – Les Décodeurs – 23.03.2020
With 10,023 respectively (889 additional deaths in 24 hours) and 5,690 deaths (832 more in one day), Italy and theSpain alone account for almost three quarters of European deaths.
Faced with this worsening number of deaths, the head of the Spanish government Pedro Sanchez announced the cessation of all economic activities "Not essential" for two weeks.
In Italy, the contagion continues to slow slowly. "In all emergency departments, there is a reduction (in patient arrivals). In some it is light, in others more marked "said Giulio Gallera, the head of health in Lombardy, the most affected region in the north of the country.
The United Kingdom, where Prince Charles, heir to the crown, as well as Prime Minister Boris Johnson are infected, has passed the 1,000 mark, with 260 new deaths in a single day, according to an official report published on Saturday.
Our selection of articles on the coronavirus