In the northeast of Catalonia, in the province of Gerona, in the region of La Selva and in the recently well-known little town of Amer, because it is where Carles Puigdemont is from, I have discovered this week one of the greatest business gems in our country .
It is not one of the big Ibex companies and the very reserved profile of its owners has kept it in a discreet role within the national business community, but, in its business, the manufacture of vaccines for animals, it is one of the world finalists in production.
This, when you are talking about competing with the Animal Health division of multinationals of the order of Pfizer, Sanofi or Bayer, is saying a lot. And it is that Hipra is the sixth company in the world in number of vaccines produced, with a whopping 24 billion doses year.
There, in Amer, a small town with barely two thousand inhabitants, between the hills of the Catalan coastal chain, in the area that became known as La Marca Hispánica and where the fight against the Muslims in the 9th century arose the origin of what then it would be the kingdom of Aragon, a giant appears in which more than four thousand people work —60% graduates—, with tens of thousands of square meters of the most modern facilities I have seen in my life and in which an air of satisfaction is breathed among the employees that is most welcoming for a company that is not known for dealing with the public. Simply good people, happy with what they do
Everything is perfectly organized, protocolized, systematized. Inside the facilities it smells cold, clean, sterile. They have a robot of more than 30 meters for the management of vaccine boxes that looks like something out of a star wars movie and while you walk through the production facilities you can constantly see cars that autonomously carry transport from one room to another. others in perfect harmony.
At Hipra, everything is perfectly organized, protocolized and systematized
And they were doing very well making vaccines for cows, chickens, sheep, fish and all kinds of animals when Covid arrived in the spring of 2020.
Like all good people, he tried to contribute as best he could to the tragedy that came upon us. From their laboratory they designed a test to diagnose the virus of those who gave for free tens of thousands of samples to surrounding hospitals when there were hardly any commercially available tests.
And wondering what they could do more, they came up with the idea of ​​looking around and saying why didn't they design a vaccine for Covid? In its history, it is the company that has presented the most novelties to the EMA and in the last 10 years they have patented 22 new vaccines, several of them against Coronavirus. Classic vaccines of all kinds: attenuated viruses, attenuated bacteria, live viruses, recombinant protein, etc. I mean, from experience it wouldn't be.
So they got to work since May 2020 and they were fulfilling the steps that must be taken, with advice and monitoring from the first moment of the Spanish Medicines Agency.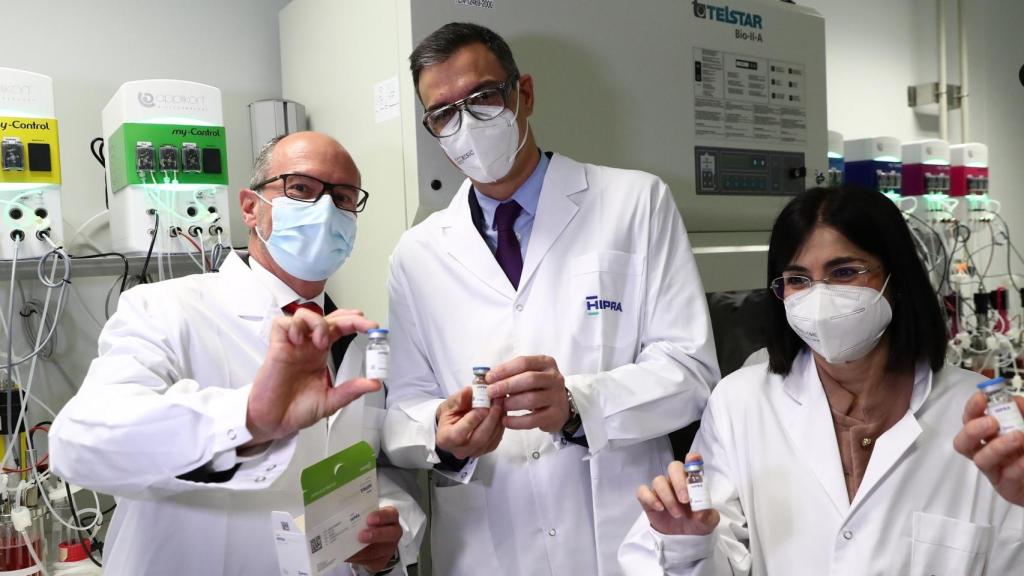 That is, Spanish innovation. Private investment at risk with something —very minority— of public funds to end up becoming the first european vaccine going to go to market. And it is worth noting the subsidies, because we have all heard the hundreds of millions of euros that have been paid by different international administrations from the beginning to other pharmaceutical companies for the development of the vaccine. Ours from Hipra, from the EU have not fallen not one euro.
After successfully passing all the in vitro phases of a vaccine model based on the production of recombinant proteins to generate antibodies against Covid, the preclinical phase in animals. Along the way they had to make some modifications to adapt the serum to the new strains that were appearing, but all the studies that were carried out on safety in animals gave positive results. No complication of any kind.
In the first phases in humans, in addition to confirming safety, comparative studies were carried out with other cohorts with individuals who had booster with other vaccines. The results, without underestimating the others, could not be more encouraging.
All local adverse effects resulting from the reactogenicity of the vaccine are significantly reduced with the vaccine. Hipra and have not been detected Negative effects systemic in none case.
No systemic negative effects have been detected in any case with the Hipra vaccine.
Regarding the effectiveness —I have seen with my own eyes the results of the studies—, shows the same response in the form of neutralizing antibodies against previous strains of Covid (Delta, Beta, etc) but greater efficacy against omicron.
In addition, studies have been able to verify how the reinfection rate has been cut in half than with the other vaccines and has the advantage that it can be stored at temperatures between 2 and 8 degrees centigrade, which makes its maintenance much easier.
The test is requested to reinforce a previous vaccination and not to serve specifically for primary vaccination because in our environment there are hardly any people left unvaccinated. Launching such a trial would require a lot of funding, again. And they also do well, if they want to be asked for it and really financed. I think they have done enough already.
Phase 3 trials will begin shortly, which have to finish confirming unbeatable expectations so that in the second trimester, if there are no stones in the road or spokes in the wheel, receive the authorization from the regulatory agencies. And from there they will begin to manufacture 600 million of doses per year. Of course, let's not be fooled because it will not be 100% sterilizing, nor 100% effective or lasting because, simply, no vaccine is.
The truth is that there was no reason for the family that makes up Hipra to go out of their comfort zone doing what they already knew. At which they were the best. Now they have in mind to open an area dedicated to Human Health that, assuming a lot of investment and a lot of risk —it seems that things fall from the sky for businessmen—I predict that in a few years it will be a business success that we can all be very proud of.
But, when this is the case, let us not disdain the effort and sacrifice that moved the social conscience of these people, because, in some way, they started, at risk and chance, without knowing if they would be successful, nor at that time did they know how long the disease would last. to try to lend a hand.
Now the only thing missing is for our Government to place its corresponding order before another comes and takes the production to another site.
*** Juan Abarca Cidón is president of HM Hospitales.
Follow the topics that interest you