Input 2021.03.04 06:00
SK Hynix secures EUV equipment for 4.7 trillion won
1 trillion more expensive than the M16 plant in Icheon where 3.5 trillion was invested
150 billion EUV per unit, likely to fit 17-18 in M16
ASML, the only EUV producer, is drawing attention to the expansion of DRAM
SK Hynix is ​​investing more than 4.4 trillion won for 5 years in extreme ultraviolet (EUV) exposure equipment. It is planning to jump into the next-generation DRAM production using EUV microprocessing. EUV equipment manufactures and supplies only ASML worldwide. For this reason, TSMC and Samsung Electronics, which are the world's first and second semiconductor foundries (consignment production), where competition for microprocessing is fierce, are also asking ASML for EUV equipment first. Since only 30 units are produced annually, there is a great concern that if equipment acquisition is delayed, there is a great concern that it will be distant from the competition.
It is in this context that SK Hynix is ​​investing more money into EUV than the total construction cost of the M16, the world's largest semiconductor plant recently completed. It is said that it is not easy to secure equipment if you do not find it with a bundle of money. ASML, which recorded the highest performance last year, is predicted to set a new record this year.
According to SK Hynix on the 4th, the company decided to bring in EUV equipment that is exclusively produced and supplied by ASML in the Netherlands with an investment of 4.75 trillion won from this year to 2025. The price is paid every time equipment comes in.
Earlier last month, SK Hynix completed the M16, a semiconductor plant the size of eight soccer fields, at its headquarters in Icheon, Gyeonggi-do. This factory, which will mainly produce next-generation DRAM, is the world's largest semiconductor facility with a building area of ​​57,000m2. SK Hynix completed the plant within 25 months of starting the plant in November 2018 with a total project cost of 3.5 trillion won. In terms of the amount of investment alone, the price of EUV equipment to enter the factory is higher than that of the factory.
Usually, the price of EUV equipment is estimated to be 150 to 170 billion won. If you add service costs such as equipment transportation and installation, SK Hynix is ​​expected to be able to secure 17 to 18 EUVs in the M16.
SK Hynix is ​​planning to produce a part of the 4th generation 1a DRAM with EUV (nm·1 nanometer is 1 billionth of a meter), and then make the 5th generation 1b DRAM in earnest. SK Hynix is ​​the first in the industry to use the EUV process exclusively for DRAM production.
EUV is used in the exposure process in which circuits are drawn on a silicon wafer, a raw material for semiconductors. Conventional argon fluoride (ArF) has a shorter wavelength of less than one-fourteenth, allowing the circuit to be drawn in more detail. Being able to draw a circuit on a wafer is like making more semiconductors with a wafer of the same area. It is to increase production efficiency. In addition, the performance of semiconductors made by microprocessing is higher than that of other semiconductors and consumes less power.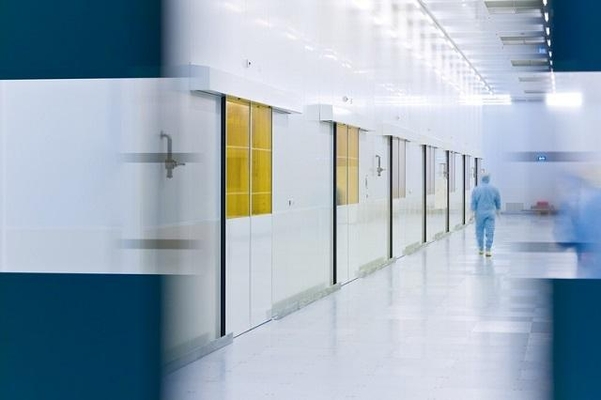 EUV is currently produced exclusively by ASML in the Netherlands and supplied to the world. Currently, TSMC and Samsung Electronics, which are the world's first and second semiconductor foundries, are using this equipment for the production of microprocessor system semiconductors of 7nm or less.
The two companies have been competitively securing EUV equipment in order to gain an edge in 5nm semiconductor orders. Since only one company could make it, there was a fear that if the acquisition of equipment was delayed, it would fall behind in the ultra-fine process competition. It is a famous story that Lee Jae-yong, vice chairman of Samsung Electronics, flew directly to the Netherlands to secure EUV equipment.
In addition to the foundry, Samsung Electronics is applying the EUV process to the 10-nano class 3G 1z DRAM. LPDDR5, which is installed on Samsung Electronics' flagship smartphone Galaxy S21, is the memory created through this process.
ASML is a time when Chinese semiconductor company SMIC, which was active in securing EUV equipment, was subject to US sanctions and needed a new customer. Industry explanations are that the appearance of SK Hynix in this situation gave wings to ASML's performance, which had been struggling, even if it wasn't.
In particular, SK Hynix uses EUV for DRAM production. In general, wafer shipments for memory semiconductors such as DRAM are large enough to be incomparable with system memory. As for ASML, it is calculated that if SK Hynix uses EUV for DRAM production following Samsung Electronics, it will be able to expand the market in the future. Service costs and parts supply will also increase.
"The equipment supply contract with SK Hynix had a positive effect on ASML stock price," said Kim Kyung-min, a researcher at Hana Financial Investment. As a major region where sales are generated, SMIC in China is making it difficult to purchase EUV equipment due to the conflict between the US and China, and SK Hynix is ​​giving a feeling of overcoming phone calls."


A video about the delivery of ASML EUV equipment to customers in Asia. /ASML YouTube
.