The race for the two senatorial posts of the state of Georgia has apparently been decided: According to media reports, the Democrat Jon Ossoff captured the seat of the previous Republican incumbent David Perdue. This forecast has now been confirmed by the broadcasters NBC, CBS, ABC and CNN. Raphael Warnock had previously been declared the winner against Republican incumbent Kelly Loeffler.
The election winners may not be known for a few days
When the final result will be available is still open. This is also due to the corona pandemic, because hundreds of thousands of voters have made use of the postal vote. Observers recently expected that the election winners would not be known until this Wednesday at the earliest, but maybe not for a few days.
Election workers count postal votes
The chairwoman of the House of Representatives, the Democrat Nancy Pelosi, has already said that both chambers of congress, together with President-elect Joe Biden, could now make "extraordinary progress" for the people of America. The new policy will rely on science to contain the pandemic. Together they will help people in the current crisis and also stimulate the economy, Pelosi promised.
Since the Democrats already have a majority in the House of Representatives – the other Chamber of Congress – they would in future have control of the entire Congress if they conquered the two mandates of Georgia. The designated US President could "rule through". Otherwise the Republicans would be able to block Biden's plans and personnel decisions again and again.
Kamala Harris could tip the scales
The by-election had become necessary under the laws of Georgia because none of the Senate candidates in the congressional elections held parallel to the presidential election on November 3rd had got more than 50 percent.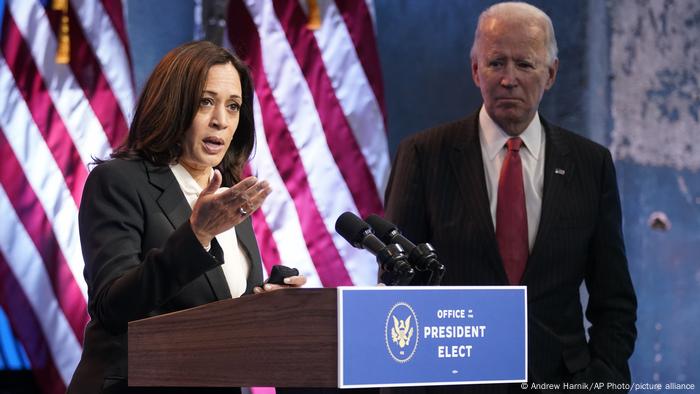 The future Vice President Kamala Harris could enforce Joe Biden's policies in the Senate
If the victory of the Democratic candidates is confirmed, they will have 50 seats in the new Senate, like the Republicans. Nevertheless, they would then have a de facto majority, because in stalemate situations the future Vice President Kamala Harris, who by virtue of her office will also be Senate President, would have the casting vote.
Biden and Trump had advertised their party's candidates during appearances in Georgia on Monday. Biden is due to replace Trump in the White House on January 20.
gri / jj / uh (afp, dpa, rtr, ap)
.