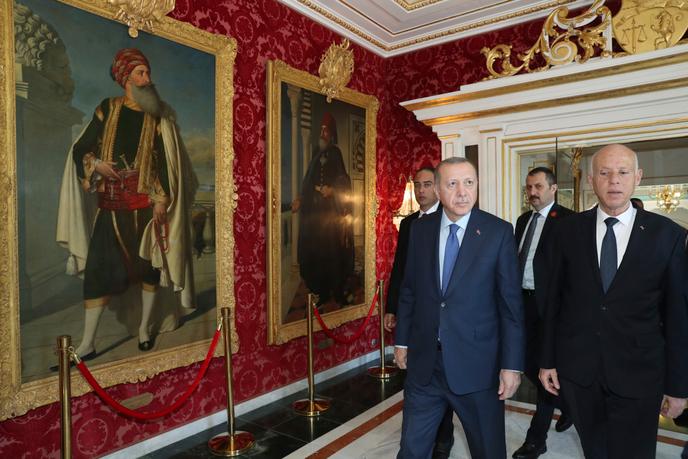 Will Libyan chaos lead to a regional military conflagration? Recep Tayyip Erdogan's increasingly noisy posturing from Turkey in support of the Tripoli government and in response to the already proven interference by the Russians, the Emiratis and the Egyptians supporting the dissident marshal Khalifa Haftar are transforming the Libyan theater into a geopolitical powder keg.
Last echo of the ambient noise of boots concert, the Turkish president declared, Thursday, December 26, at a rally of his political party, the Justice and Development Party (AKP, Islamo-conservative), that from the opening of the work of the Parliament of Ankara, on January 7, a bill on the sending of troops to Libya at the invitation of the government of Tripoli would be presented to the vote. The green light from Turkish parliamentarians is given to Erdogan and if the consultation was held on the date indicated, it would take place on the eve of a planned visit by Russian President Vladimir Putin to Ankara.
Does such a belligerent posture aim to increase the pressure on Russia – operating since the fall in a barely camouflaged way in the ongoing battle around Tripoli via the "mercenaries" of the private security company Wagner close to Moscow – with a view to obtaining concessions from Mr. Putin on other files, notably Syrian? Some analysts suspect it.
"At this point, Mr. Erdogan is more in the show than in the emergency, says Jalel Harchaoui, researcher at the Institute of International Relations in Clingendael (Netherlands). He seems to be taking his time in stages as if it were a negotiating technique vis-à-vis Russia. " Or is it the option of a headlong rush that nothing can stop?
Rapid reaction force
The fact is that the implication of Turkey on the Libyan file did not stop deepening these last weeks whereas the government of national agreement (GAN) directed by Faïez Sarraj, based in Tripoli, saw its defenses weakened by external support – Emirati drones or Russian mercenaries – which benefit the attacking forces of the Libyan National Army (ANL) of Marshal Haftar.
The "Battle of Tripoli" had been launched in April by Khalifa Haftar, self-proclaimed head of the ANL, against the GAN of Sarraj, formally supported by the international community but de facto abandoned by many of its historic sponsors, foremost among them the France.