The LEGO Minifigures 71032 Collection Series 22 Review: Five Great Figures for a Great Time! [Update Waldelf]
Update 24. Januar: I bought another figure, the wood elf. (Susanne, I blame you for that! 😉 ) For a detailed look and my thoughts on the character, see the article below.
The LEGO minifigure has been with us since 1978 and has been used in almost countless sets since then. In 2010 a new theme world appeared, if you want to call it that, the "Collectable Minifigure Series' or CMF. Since then there have been several waves of these characters every year and they have covered just about every subject area.
What I love about them: Characters from my area of ​​interest appear regularly! Pretty much every regular show has at least two characters that I get. Occasionally even more. However, I don't like all of the figures by far and I only buy those that interest me. That's why I now have a review of the minifigure series 22 from the year 2022 but i will only four of the twelve introduce figures. The rest is probably cool for others, but not interesting for me. Here we go!
Die Box
… is azure. I have nothing more to say, let's continue.
Update: The Acorn Man
LEGO calls this character the Wood Elf and he is a beautifully made character as well. While he doesn't have any print on his arms, he does have a quite useful torso print and medium-length legs in dark green. The face is also very cute and shows him either smiling or laughing.
New for him are the acorn hat and the cape, which is based on an oak leaf and is made of the soft fabric. Therefore, the part does not crease even under heavy use.
His accessory is a walking stick, which isn't too exciting, but there's something else:
A toadstool that smiles friendly. How nice. I really like that! And that's not all, you get one of the printed mushroom caps as a spare part, so you can make a second mushroom like I did in the photos. (But the stem is only included once, so your small parts magazine has to help out.)
Overall, I think he's a well-done figure!
The Troubadour
This figure is my personal favorite of this minfigure series. LEGO calls him the troubadour, bard and minstrel are other names for him and he is a fantastic representation of those singers of the 12th and 13th centuries. Intricately printed, front and back, as well as on the sides (on arms and legs) and with a I really, really like the character because of the "singing" facial expression.
Of particular note is the character's hat. This cap has been around (in a slightly modified version) since 1987 and it was released with the massively popular Forestmen! How wonderful to get the part in a new color! In addition, the lute appears as a musical instrument for the first time. The LEGO part is relatively similar to the LEGO guitar but clearly recognizable as a lute. He also comes with three gold coins (2+1 replacement).
What I also noticed is that the color of this figure is based on the old knights from 1978, its torso design is based on the "civilian torso" of the classic Castle era and the symbol on the gold coins is based on the coat of arms of those same knights. I always appreciate references like this and the color scheme still works really well!
The Winter Warrior
As I said before, the minifigure series tend to have two characters that I can't afford to miss. Here we have the second. What can I say: This gentleman is perfect from every angle you look at him. Elaborately printed and equipped with masses of accessories.
His arms and legs are dual-moulded and printed, and his torso also has a slightly metallic print on the belt buckle. In addition, his fur hat is a new part and he gets a fur collar. He looks wrapped up really warm. 🙂
With him he carries a snowflake crested shield and the fantastic new longsword. His expression is either fierce or friendly and he keeps his face warm with a bushy white beard. He also has a loyal companion with him: his husky. This one has blue eyes.
I like the thought of the lonely wanderer roaming the country with nothing but what he is carrying and his dog. I somehow immediately think of the book series "Chronicles of the Dark Woods", which I loved to read as a child.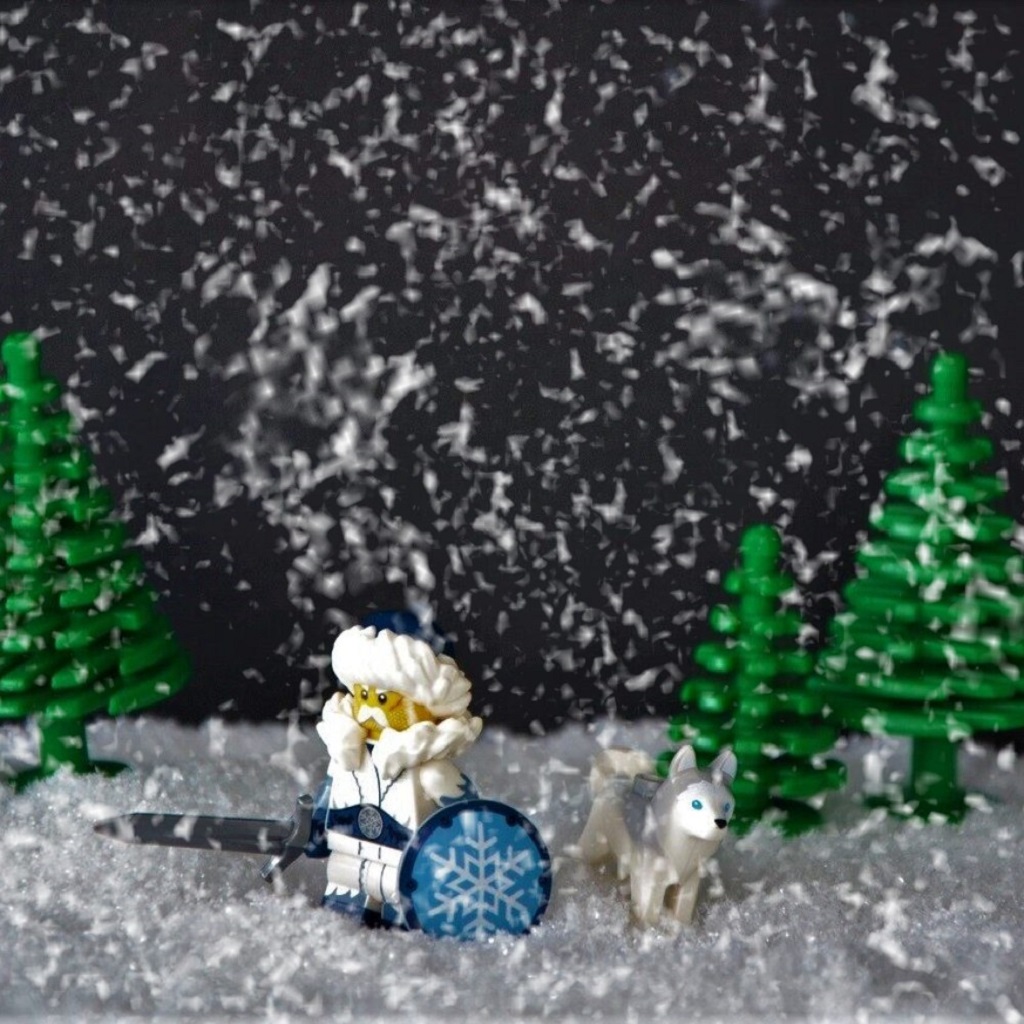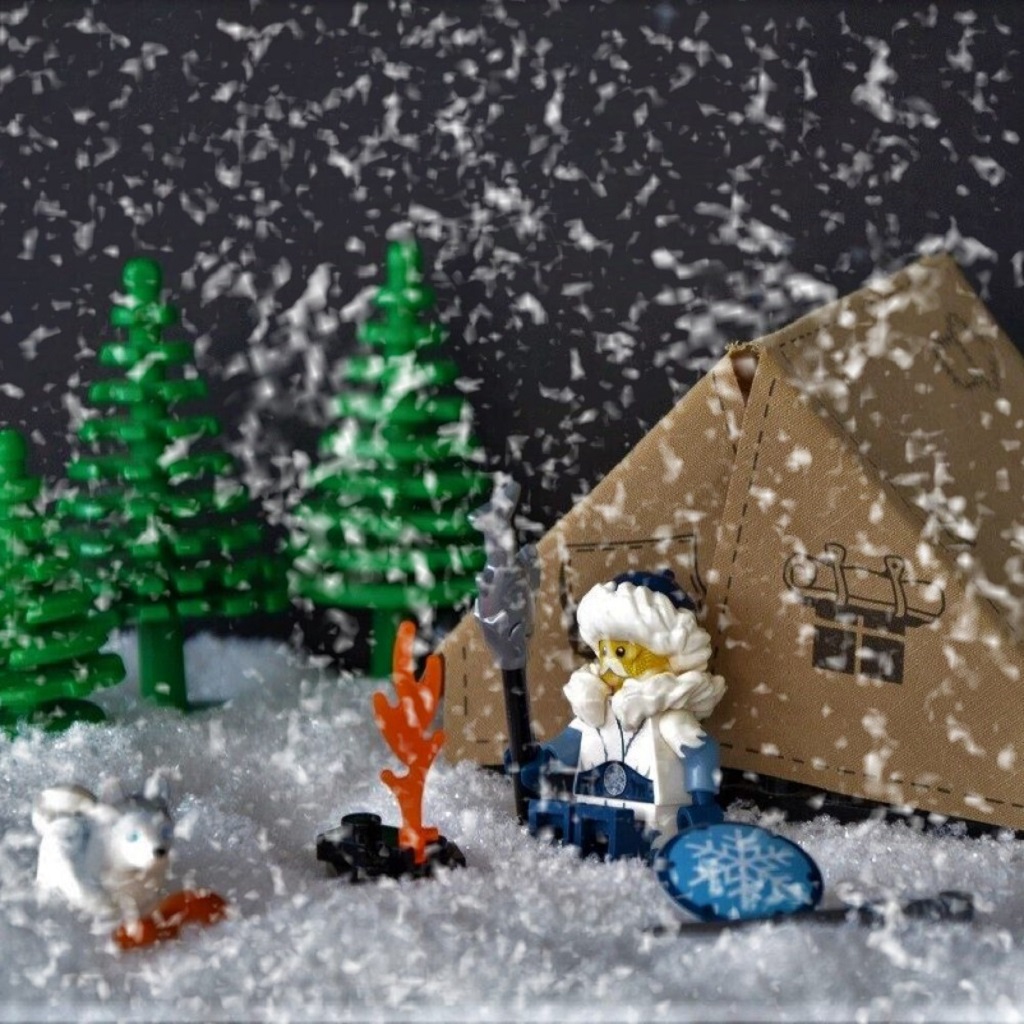 The bird watcher
The animal world of our planet is so diverse and interesting. That's exactly what our next minifigure thinks too: it's well equipped to study the kings of the sky, the birds.
The figure has a nice print, even if the torso print itself is more "less is more". But she does have a watch on her left arm and I think a lot of people will be happy about that. Her arms are also dual-moulded, just like her legs. I also really like the print on the legs.
As accessories we get binoculars, a pink shoulder bag (which to be honest I wouldn't have needed in pink and would have preferred a different color), and a plant. But the most important thing included is a toucan. The bird is a new molding and looks absolutely wonderful.
Toucans are one of my favorite birds and there are 45 species of them. But this one is based on the probably best-known toucan, the toco toucan. I couldn't have asked for a better animal for this character. This is what perfection looks like in a LEGO part.
girl with foal
I admit that I bought this figure because of the foal. However, I have to admit that I am positively surprised by the figure itself. In general the girl is nothing too extravagant, a similar figure could also be included in a city set.
But she has medium-length legs, which are fairly new and from what I've heard quite desirable. She also has a fantastic hairpiece, with pigtails and a red hat. Her torso is also elaborately made. She's wearing a plaid sweater and the pattern is continued on her arms too, which looks great.
Her accessory is a carrot, for the foal, of course. That's nothing special, but the foal itself easily makes up for it: what a great new piece. It looks so cute! 🙂
Conclusion: 71032 minifigures series 22
I don't collect all the figures, so just these four from me. Maybe someone else will introduce you to the rest of the characters in more detail.
Nevertheless, I would like to briefly go through the rest of the series. Without looking at the characters in detail, I think the series has a good mix of fantasy, history, reality and sci-fi. Here is something for everyone. The wheelchair racer is a character that strikes me as quite unique. I find the acorn man adorable.
The minifigures now cost €3.99, but have also evolved a lot since the series began in 2010.
I find most of these minifigures come with enough accessories and intricately printed to justify the price. All four of the figures were worth €3.99 to me. But my favorites are the minstrel and the winter warrior. The two completely steal the show for me!
evaluation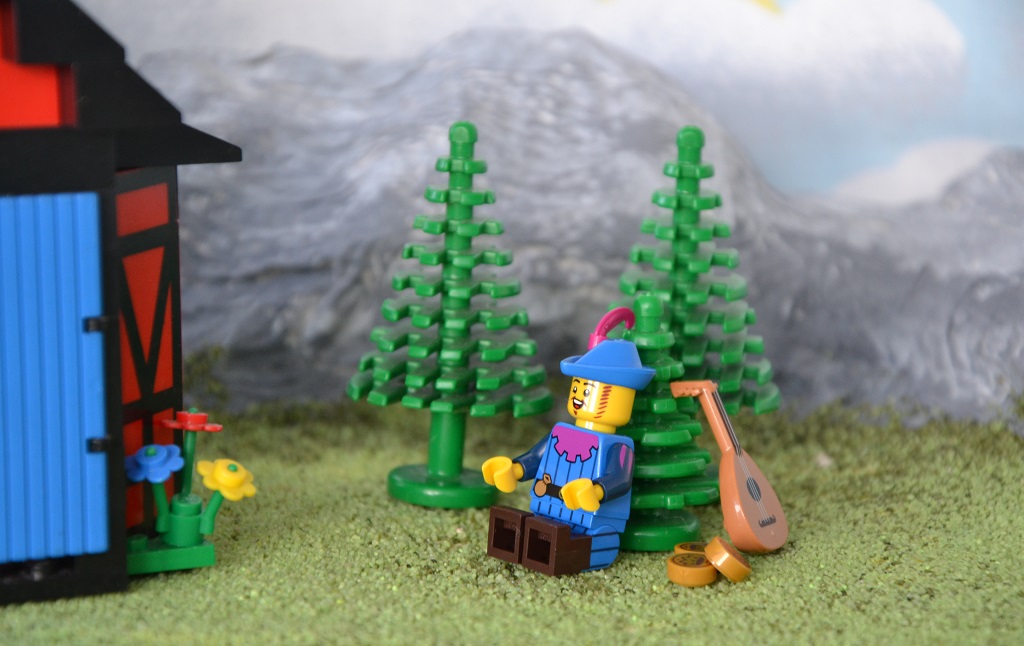 positive
negative

nice varied characters
many accessories
animals
Your opinion
What do you think of series 22? Which characters are your favourites? Who is on your wish list or do you want them all? Feel free to express yourself in the comments.