clarification!
Based on Kompas.com's verification so far, there is something that needs to be clarified regarding this information.
KOMPAS.com – A video circulating on Facebook social media shows a man practicing massage therapy for his palms and fingers.
The video's narration claims that the therapy can cure heart blockages.
Based on the confirmation of the Fact Check Team Kompas.comthe narrative is not true.
Cardiologists say the technique has nothing to do with curing heart blockages.
Circulating narrative
A video showing how to cure a heart block by massaging your fingers and palms was shared on Facebook by the account this and this.
Here's the narrative that was shared:
The exercise this man demonstrated has healed and saved thousands of people from heart blockage….! Now the video has gone viral and thousands of heart patients are looking for this clip. So, watch this clip and try this exercise. Some people claim that their back pain goes away in just 7 days….! He felt the blood rushing down his neck and back. May be useful
The account shared a 32-second video showing a man massaging a number of points on the palm and fingers.
photo" data-photolink="http://www.kompas.com/cekfakta/image/2022/05/13/091435282/klarifikasi-teknik-pijat-telapak-tangan-bisa-untuk-terapi-penyumbatan?page=2" style="max-width: 100%;width:750px">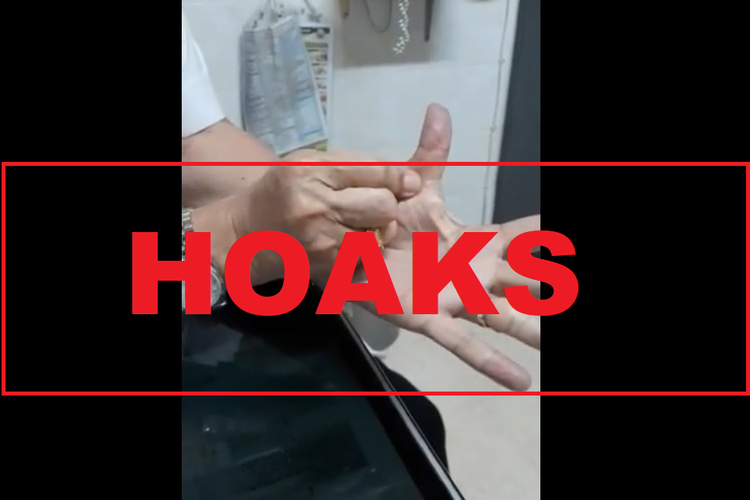 Hoax, heart blockage therapy by massaging the palms and fingers
Confirmation Kompas.com
Fact Check Team Kompas.com asked a cardiologist for an explanation to verify the truth of the narrative.
A heart and blood vessel specialist at the Solo Baru Indriati Hospital, M Triadhy Nugraha Y, said the technique shown in the video is basically acupuncture/acupressure.
"As far as I know, exercises and massage therapy like this are based on acupuncture/acupressure, not based on conventional medical science," Triadhy said when contacted. Kompas.comThursday (12/5/2022).
He explained, blockage of coronary arteries in the heart is not associated with massage techniques or relaxation of the fingers.
Thus, the claim that the massage technique shown in the video can cure heart blockages is not true.
"Yes (not true), not yet basic science as well as evidence based on scientific studies," he said.
Healing of heart blockage
Separately, a heart and blood vessel specialist at the Binawaluya Heart Hospital, Jakarta, Dian Larasati Munawar, said therapy to treat blockage of the heart arteries is done by installing a ring or surgery. bypass.
"I don't really know about that (massage technique). Only as far as I know the blockage of blood vessels is opened with a ring or surgery. bypass," said Atik, as he is usually called, when contacted Kompas.comThursday (12/5/2022).
Atik also said that the massage technique was not associated with healing heart blockages.
"If you look at the pathophysiology of the disease, it has nothing to do with it," he said.
Conclusion
Based on the confirmation of the Fact Check Team Kompas.comvideos of palm and finger massage techniques that are claimed to cure heart blockages have not been proven to be true.
According to cardiologists, claims that the technique can cure heart blockages are untrue.
The technique has no scientific basis or evidence.
Get updates news of choice and breaking news every day from Kompas.com. Let's join the Telegram group "Kompas.com News Update", how to click the link https://t.me/kompascomupdate, then join. You must first install the Telegram application on your cellphone.