Recently, we had seen the first shots of the revised Kia Sorento 2021, but now the manufacturer has now released official images that give a fairly complete picture of what the model will look like when it premieres at the next auto show of Geneva, including inside.
These interior images, in particular, convince us that the somewhat drab side of the outgoing Sorento is a thing of the past. There is a slight retro touch in the interior design, especially with regard to the long horizontal and relatively unbroken line of the dashboard. We almost expect to find an ignition key hole – but no, what we see is a push button, which reminds us that this is a modern design par excellence.
Auto123 launches Shopicar! All models of the year and all current promotions.
The most striking elements are the four roughly rectangular air vents, two of which frame the climate controls in the center of the console. The other two are at the ends of the front row, with rectangular door handles to keep them company.
The images also show a beautiful palette of interior colors in black and beige (slightly retro there too), highlighted by the two-color steering wheel and the contrasting stitching of the perforated seats.
A sign of the speed with which new technologies and new features are migrating from luxury models to consumer vehicles today, the new Sorento is equipped with a giant 12.3-inch screen for the dashboard, placed in front of the driver, and a 10.3-inch infotainment screen, both merging into each other. We saw this for the first time in a Mercedes-Benz S-Class in 2014, so just six years ago.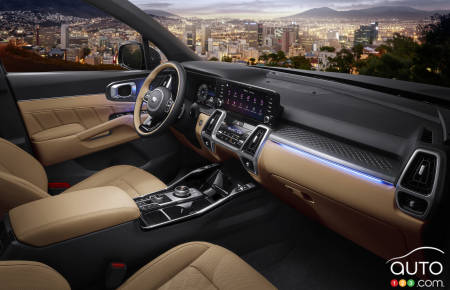 We also note the ambient lighting visible on the dashboard on the passenger side and on the doors, as well as the two rotary buttons located on the lower part of the armrest, within easy reach of the driver. One is used to change gears, while the other seems to be there to change driving modes.
On the outside, we got an idea of ​​how it looked with the first shots, but what strikes you here is the similarity between the front of the Sorento and that of Kia's all-new Seltos SUV. The biggest difference seems to be the location of the Kia logo; here it's in the front, while the Seltos has it on the hood.
The new Kia Sorento 2021 should be available for sale before the end of the year. At the Geneva Motor Show we will know more about the model, including of course what drives it.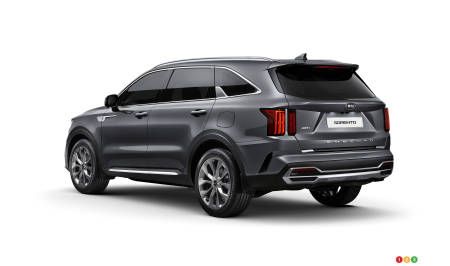 .