Prime Minister Mark Rutte, Minister Ferd Grapperhaus (Justice and Security), chairman of the Security Council Hubert Bruls and the security regions are mainly positive about how the Netherlands has complied with the corona measures this weekend.
Because of the warm spring weather, with maximum temperatures between 16 and 21 degrees, it was feared that many people would go outside to go into nature.
Friday, a preventive call was therefore shared by Natuurmonumenten and Staatsbosbeheer, in which the Dutch were asked to stay at home as much as possible.
This was often followed up. Grapperhaus and Rutte, however, have reservations about the praise. "This weekend, for example, the police had to act in the event of incidents in Borne, Arnhem and Breda," said Grapperhaus. Agents were forced to issue fines and arrest individuals. "Unacceptable," said the minister.
Good to see that most people have responded to the call to stay home this weekend, despite the nice weather. Unfortunately, here and there action had to be taken. It is important that we all adhere to the measures. We have to do this together.
Avatar

Author

MinPres

Moment of placing

4:54 PM – April 5, 2020
Various groups nevertheless organized 'corona parties'
In Zeeland it was hit several times. For example, a team in Middelburg celebrated in a dressing room at a sports complex. The group refused to open the door when the police arrived and sang songs like "quarantine, quarantine." In Lewedorp, a 59-year-old man visited eight people, who made a lot of noise.
In addition, a group of motocross riders near Zevenbergschen Hoek turned out to be very tough, when they were first warned in Noord-Brabant of violating the ban on gathering, and eventually all were thrown at the Breda International Airport airport. Also dozens spectators received a ticket.
Natural areas seemed "relatively quiet", although it was slightly busier on Sunday than Saturday, write the safety regions and Grapperhaus. Preventive measures by municipalities would have contributed to this.
Access roads closed to busy areas
In places where it did get busy, such as Sunday at the Drielandenpunt, mayors still took action. For example, the municipality of Vaals closed all access roads to the tourist attraction and Zandvoort already closed roads a day earlier.
Staatsbosbeheer and Natuurmomenten are full of praise for the behavior of day-trippers. "It was a bit busier on Sunday than Saturday, but keeping distance was possible. It seems that the Dutch have largely responded to our call."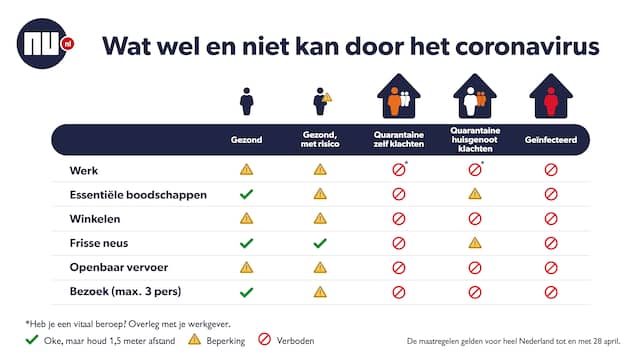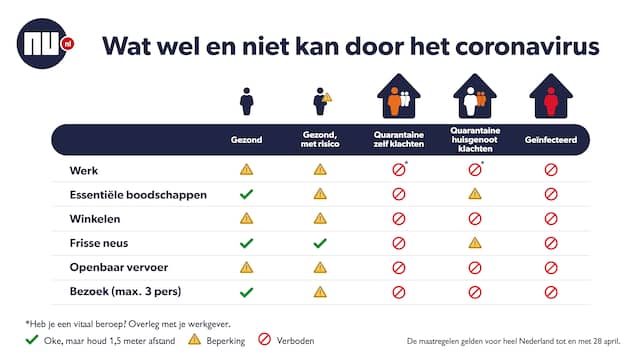 Follow the latest developments around the virus in us live blog.
The coronavirus in short
The coronavirus mainly spreads from person to person via sneezing and cough drops. The chance of becoming infected through surfaces such as door handles is small. This chance decreases if you wash your hands often.

You can considerably reduce the chance of spreading by keeping at least 1.5 meters away from others.

The corona measures have resulted in an infected person infecting less than one other person on average. Previously, this so-called reproduction number was between two and three.

The vast majority of patients have mild (flu-like) complaints.

Almost all deaths involve the elderly or other vulnerable persons, such as heart, lung or diabetes patients. If everyone complies with the measures, this reduces their risks.
.