On the occasion of the broadcast of "Elysium" this evening on TF1, a small focus on one of the locations for the shooting of this film directed by Neill Blomkamp and carried by Matt Damon: a giant landfill located in Mexico…
Second feature film by Neill Blomkamp after the surprising District 9, Elysium is a science fiction and action film set in 2154, in a society where there are two categories of people. While the wealthy people live on a man-made space station called Elysium, the rest of the inhabitants are trying to survive on devastated, poor and overcrowded Earth. In this apocalyptic context, Max (Matt Damon), an ordinary man, accepts a mission that could bring equality between the two worlds.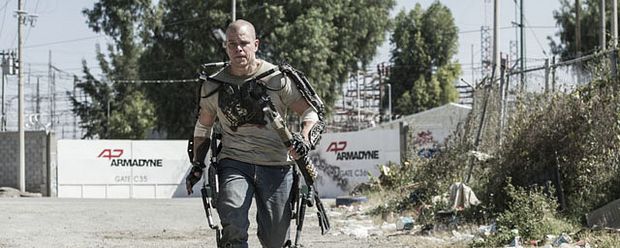 To recreate the break between these two universes, Neill Blomkamp chose to shoot in two radically different places. The scenes at Elysium were performed in Vancouver, where the space station was completely built. The sequences on Earth were filmed in Mexico City, in the city's slums but also in a gigantic open-air dump named Bordo Poniente. The latter, which closed shortly after the shooting of the film, was the largest in Latin America and had around 70 million tonnes of waste.
Even if his performances in the saga Jason Bourne have shown how much physical roles do not scare him, nothing could have prepared Matt Damon for what he endured on Elysium. The actor and the rest of the team thus spent two weeks in this Mexican landfill, the dust of which is released from the place is made up of 75% of faeces… Damon then affirmed that it is the moment the harder than he spent on a film set. A toxicological report on the place was even requested, which turned out to be very worrying.
Alien, Halo, Robocop …: the cursed projects of Neill Blomkamp
When it was released in 2013, Elysium was a fairly decent success, with around 286 in global revenue for a budget of 120 million. The profits made by the film are however far below those of District 9, which had made 211 million, but for an estimated production cost of 30. Chappie, which Neill Blomkamp will stage in 2014, will experience a commercial failure despite the presence of Hugh jackman and the theme of robotics. In 2015, the director explained that he saw Elysium, beyond its difficult shooting, as a failed experience:
"In the end, I feel like the story was not the right one. The satirical dimension of this ring in the sky, populated by rich people, hovering over an impoverished land, is great. really love it, so much that I almost want to go back there to do it right again. But the screenplay just wasn't … I just didn't make a film that was good enough. that I had to make, the costumes, the sets and the special effects were good. But in the end, everything rested on incomplete foundations, because the script was not up to par, the story was unfinished. "