Slovak hockey player Boris Sádecký collapsed during a multinational IHL match between Dornbirn and iClinic Bratislava Capitals.

TASR

29.10.2021 21:27, updated: 22:00
Photo: TASR, Pavel Neubauer

Boris Sádecký (left) still in Trenčín's jersey.

The player was transferred to the hospital, the duel ended prematurely.
The situation occurred at the end of the first period at 1: 0 for the home team. "One of the guest players crashed on the ice.
He was in the care of paramedics for several long minutes. He was then transported to the hospital, "said laola1.at.
Twenty-four-year-old attacker after being transported to the hospital in a stable condition. This was confirmed by the club on the Facebook profile.
"Boris Sádecký is stabilized in the intensive care unit, his condition is constantly consulted with the attending physician," said club president Ivo Ďurkovič.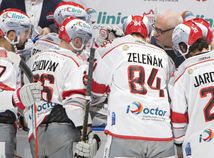 Read more Excellent performance Capitals, Sádecký with a pure hat-trick
.