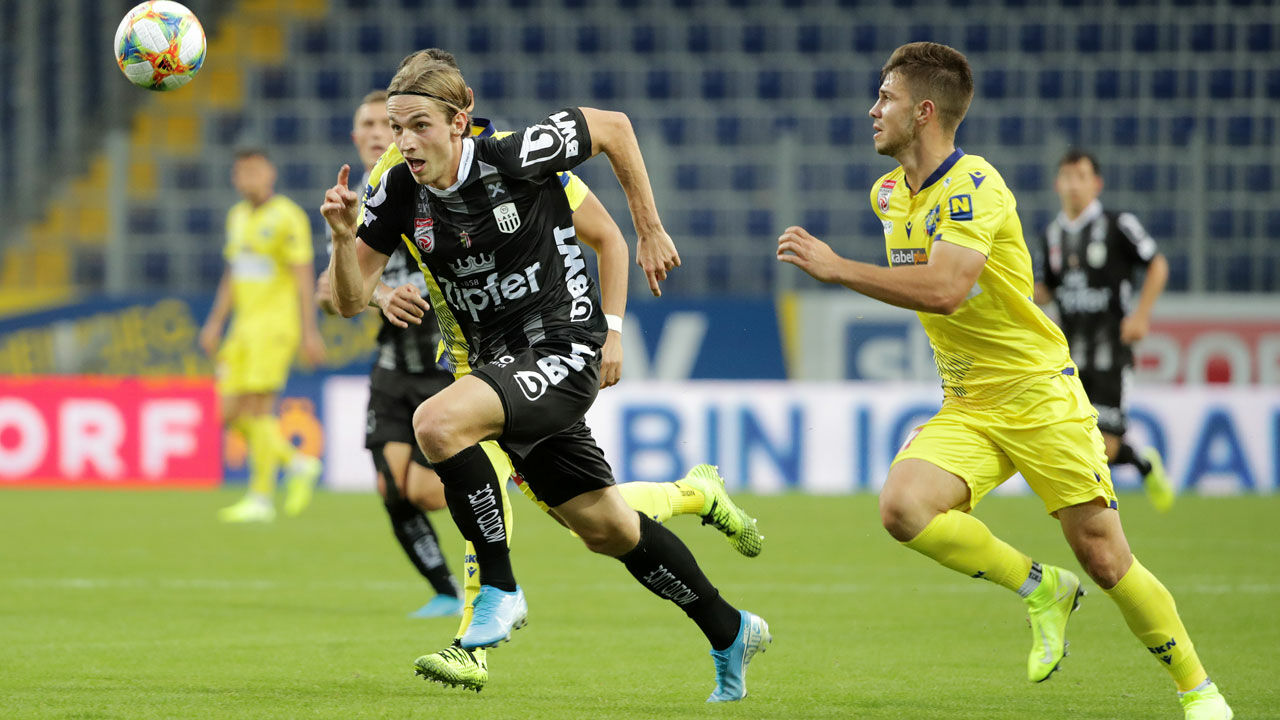 In the unusual role of the hunted, the LASK welcomes on Sunday (2:30 p.m. in the live ticker) in the 20th round of the Bundesliga stragglers St. Pölten.
In the long-range battle for the title, Linz defend three days after the 1-1 draw in the Europa League at Alkmaar, a point ahead of Salzburg, who is also visiting Austria on Sunday.
"A compact opponent awaits us on Sunday," says LASK coach Valerien Ismael, whose team won the first season comparison in St. Pölten 3-0.
Ismael is "spoiled for choice"
"You already saw in the first leg that St. Pölten is strong in terms of running and has invested a lot. They also have very good players in their ranks," warns the Frenchman. "It is important for us to deliver a concentrated performance. We will have a lot of possession. It is important to find solutions and to be patient again in our game."
Ismael could make personnel changes in some positions. Forward Marko Raguz was a bit "struck", explains the coach after the Alkmaar game, midfielder James Holland had to be sewn on the knee in the half after a collision. And defender Philipp Wiesinger is banned.
It is quite possible that offensive player Husein Balic will make his debut at LASK against his ex-club, or that Christian Ramsebner will play again for the first time since August 7 after his thigh injury. "I'm spoiled for choice in certain positions. The game (against Alkmaar, NB) was not quite as intense, so I think we will regenerate very well," said Ismael.
Schmidt: "They already have weapons"
Alexander Schmidt watched the game as an interested TV viewer. "In my opinion, the LASK is the team of the hour, is athletic and soccer very good, has a clear plan," said the coach from St. Pölten.
Most recently, the goals after throws are new. "Apparently they trained that again, I don't think that's a coincidence," the German suspects. But you have to be careful in general with standard situations by Peter Michorl and because of the header strength of Gernot Trauner and Marko Raguz. "They already have weapons there," says Schmidt.
One should not hope too much of the double burden on Linz. "They have good people outside and can already rotate," says Schmidt. Nor would Upper Austria negatively influence the new role of the hunted. "I don't think that matters to the LASK. They are very stable and seem to be able to deal with pressure situations very well," says the ex-Salzburg Academy trainer.
Draw against Admira "well put away"
His team recently mourned for a win thanks to a 2-0 lead given Admira 2-2. "We put it away well," emphasizes St. Pöltens Coach. An increase must certainly be needed for the countable.
"We need a higher intensity, we have to be more aggressive in the duels and we can't lose the ball again so quickly if we win it. And if we lead in the end, we have to keep playing football and not just kicking the balls away," explains the 51 year old.
Possible lineups:
LASK: Schlager – Ramsebner, Trauner, Filipovic – Potzmann, Haudum, Michorl, Renner – Goiginger, Klauss, Balic
Replacement: T. Gebauer – Wostry, Müller, Holland, Sabitzer, Tetteh, Raguz
St. Polten: Vollnhofer – Klarer, Drescher, Muhamedbegovic – Ingolitsch, Messerer, Gorzel, Luxbacher, R. Ljubicic – Pak, Alan
Replacement: Riegler / Kretschmer – Schimpelsberger, Rasner, Hofbauer, Meisl, Meister, Schütz, Ambichl, Ouedraogo, Davies
Text source: © LAOLA1.at
Frankfurt-Salzburg: German press saw Salzburg "almost desolate"
to the top » COMMENT_COUNT comments
Legal Notice:
User comments do not necessarily reflect the opinion of the LAOLA1 editorial team. LAOLA1 reserves
propose to delete comments without giving a reason, especially if they are criminal or civil law norms
violate, contradict good manners or otherwise run counter to the reputation of LAOLA1. We refer to
in this context, in particular to our terms of use. In such cases, the user cannot do anything
Assert claims. Furthermore, Sportradar Media Services GmbH reserves the right to claim damages
make and report criminally relevant facts.