Jakarta, CNBC Indonesia – The management of PT Bank Bukopin Tbk (BBKP) explained the problem related to the difficulty of customers withdrawing funds as well as the policy of limiting fund withdrawals in several branches of the company.
Meliawati, Bank Bukopin's Corporate Secretary, said the company has resolved the customer's problem in terms of disbursement of funds and the customer can accept the company's explanation of the condition.
"The limitation of withdrawal of funds in several branches is carried out in situational conditions, so that we can meet customer transaction needs. This is an adjustment that needs to be done and bank officials continue to provide explanations to customers, as per the company's operational service standards," he said, in the disclosure of information on the Stock Exchange Indonesia (IDX), Tuesday (6/30/2020).
He said, for information, currently Bank Bukopin along with KB Kookmin Bank are in the process of adding capital by the Major Shareholders to strengthen the company's fundamentals.
The process of issuing new shares or rights issue is currently under final review by regulators, both in Indonesia (Financial Services Authority / OJK) and in South Korea.
In addition, the company is working on various strategic alternatives to help strengthen conditions, especially in overcoming the Covid-19 pandemic, including assistance by state banks in the form of Technical Assistance (TA), expansion money market line interbank, promotional program for customer fund deposits with a choice of a certain period, and so on.
Previously, the Technical Assistance Team (TA) of PT Bank Rakyat Indonesia Tbk (BBRI) had been actively working to help Bank Bukopin since June 18, 2020. This followed up on the OJK letter dated June 11, 2020 regarding Requests for Technical Assistance to Bank Bukopin.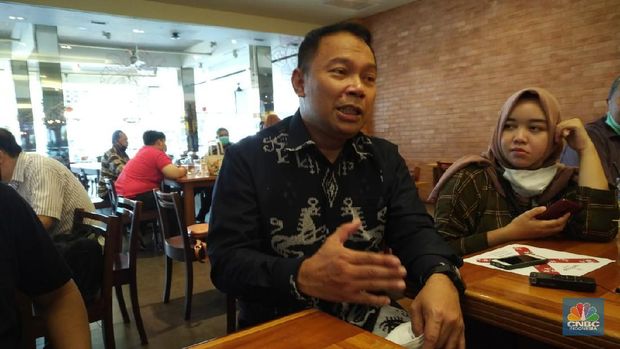 Photo: President Director of Bank Bukopin, Rivan Purwantono (CNBC Indonesia / Yuni Astutik)
Johanes Kuntjoro Adisardjono, Head of the Technical Assistance Team, revealed that his office was making every effort to help maintain the stability of Bank Bukopin's liquidity.
The TA team itself has its office at Bank Bukopin's Head Office, and directly communicates with Bank Bukopin's management regarding strategic steps that need to be taken immediately in order to maintain liquidity stability. Liquidity management becomes concern TA Team leading up to monitoring cash flow (cashflow) the bank is a priority.
"We hope that the public and customers will remain calm and not worry too much because the recovery process is ongoing and we are optimistic that conditions will improve," concluded Kuntjoro.
On a previous occasion, Director of Bank Bukopin Rivan A Purwanto appealed to all customers to keep their funds in all branches of Bank Bukopin. On behalf of Bank Bukopin, he appreciates loyal customers.
"Banks remain safe because in addition to being guarded by all employees and management with high integrity, we are also overseen by regulators, both as banks and as listed companies listed on the stock exchange," he said.
(Taken / HPS)
.